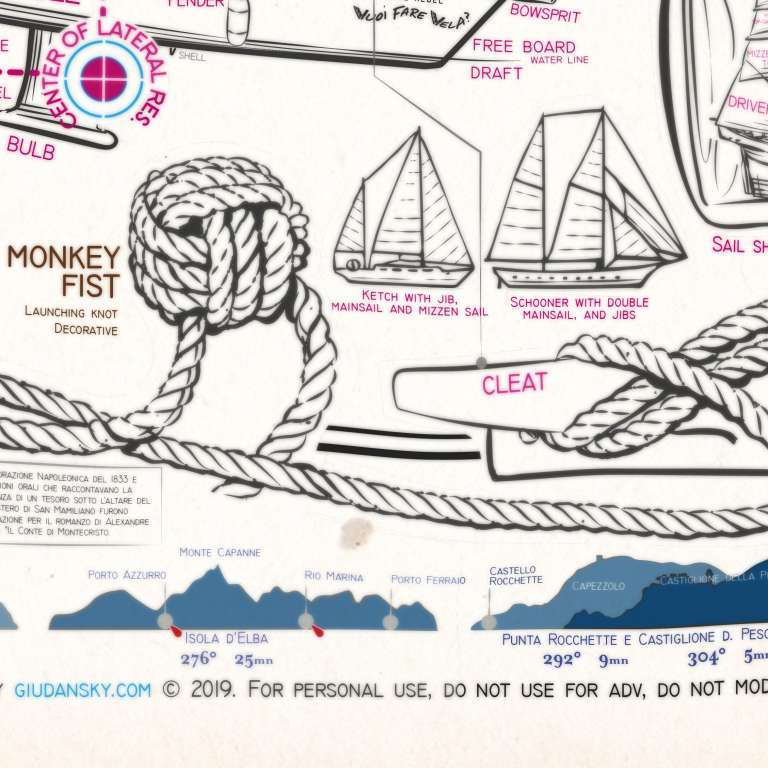 The monkey fist has always been my favorite knot. One of the most difficult to achieve: I spent a whole summer in the 90's to accomplish a sufficient one. With a ball of paper in the center, or better, a lead ball.
Because the monkey fist, a perfect sphere made of tighten rope necks, resembling strong thin fingers, was a useful knot: used as a throwing weight, on the docks for mooring lines.
Here it is, finally, a new update to the poster map: many graphic improvements and additions.
What's new in the map?
In addition to the monkey fist there's Eolo, god of winds, celebrated at the apex of the sailing rose.
Added wind strength and categorization, with references to the boat maneuvers, height of the waves and state of the sea.
Redesigned yacht and sails, the boat with the nomenclature is now the visual center of the poster, under the wind rose. Sails are now surrounding the yacht, added the Genoa (it was quite a serious lack) and the storm sail. Also included a graphic diagram with the representation and configuration of sails in relation to the signals of fluid streams. Added the auric sail to the dinghy and many nomenclatures.
The knots section is completely redesigned: an idea and a challenge: "all the knots on a single rope"! More elegant, and decorative, used as a map frame in the bottom part. Added the Polynesian map of sticks and shells, an historical cartographic reference.
Visit the page to download the new poster. Visit the page to download the new poster.
Good wind